Succession star and honorary director of PETA US James Cromwell has a new love in his life: a piglet who had fallen off a lorry while being taken to be fattened for slaughter. When Cromwell learned from PETA US that the piglet, who was found scraped, bruised, and covered with mud, had been rescued just before the ham-heavy Easter holiday, he just had to meet him. And he did – virtually – and named him Babe in honour of the film that inspired him to go vegan 28 years ago. Soon, Cromwell will help transfer Babe to the Indraloka Animal Sanctuary in Pennsylvania, US, where he'll be welcomed after receiving a clean bill of health.
"Having had the privilege of witnessing and experiencing pigs' intelligence and inquisitive personalities while filming the movie Babe changed my life and my way of eating, and so I jumped at the chance to save this real-life Babe. Every pig deserves to live in peace and joy at a sanctuary, choosing when to frolic, where to forage, and how to spend their time, yet few do."

– James Cromwell
Spare a Thought for Pigs
Pigs are playful, intelligent, and friendly animals who enjoy listening to music, playing ball, sleeping together in "pig piles", and even getting massages.
In the global meat industry, which slaughters 129 million pigs every year, their tails are chopped off, their teeth are cut with pliers, and males may be castrated – all without painkillers. At slaughterhouses, they're hung upside down and bled to death.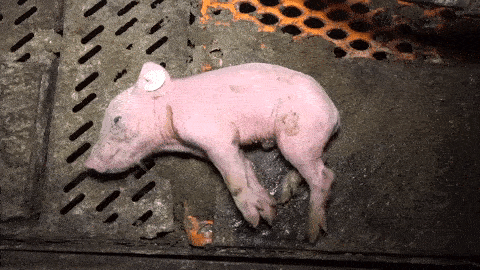 What You Can Do for Pigs Like Babe
In addition to sparing nearly 200 animals like Babe a year a violent and terrifying death, vegans are less likely to suffer from cancer, heart disease, strokes, diabetes, and obesity than meat-eaters are. They also have smaller carbon footprints, as the meat industry is a major producer of the greenhouse gases that cause climate change.
What are you waiting for? Take our 30-day vegan pledge, and we'll help you make the transition to a kinder lifestyle:
Want to Do More?
Babe will join many pig pals as well as alpacas, chickens, cows, and others at the nearly 100-acre Indraloka Animal Sanctuary. Anyone interested in contributing to his lifetime care can support the sanctuary here.