"This is Tavari, a Rhodesian Ridgeback, with Debbie Bell." Wait. I know them! I was watching the Westminster Masters Agility Championship finals when a familiar face with a ridged dog walked into the ring. Yay! A hound!
To the public, the mixed breeds (or All-American Dogs, as the American Kennel Club calls them) were the big news. To those of us who regularly compete at agility trials, their inclusion was a nonevent; almost every trial has an assortment of mixes. We're generally more impressed to see a nontraditional breed, such as the Afghan Hound that ran in the finals — or the Rhodesian Ridgeback.
Dogs such as Ridgebacks and other hounds were bred to work independent of human direction, making their own decisions. A hunting hound who kept looking to a person for directions would quickly be out of the gene pool. So, unlike herding dogs and retrievers, who were bred to follow human direction, it takes a lot more work to get a Ridgeback to pay attention to what you're saying.
Tavari didn't exactly smoke the course, but he did pay attention. The fact that he even was competing at this level was unusual for any hound.
I watched the finals with a friend who had never seen agility, and I admit I was squirming at first as dog after dog meandered around the course.
"It's not usually like that," I kept saying, feeling a tad defensive.
At any agility trial, most dogs don't in fact qualify, or "Q." But this Q-rate seemed worse than usual. And on national TV! Was it the course? It did have some tricky parts, in particular what's a called a backside jump, in which the dog has to go around the jump and then jump it from the far side. This is something you see mostly in Europe, and a lot of competitors here never practice it. But that didn't explain the often lackadaisical attitudes a lot of the dogs were showing.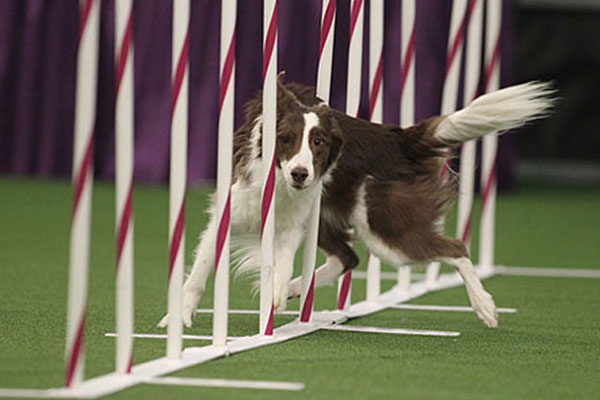 Agility was designed with Border Collies in mind. Its spacing and obstacles are sized to Border Collie height and stride, but still, several other breeds put on their Border Collie personas and rock it. But many breeds — the nontraditional agility breeds, which means anything not a herding dog, sporting dog, Poodle or Papillon, tend to be slower either because of the way they're built or the way they think. Cue the terriers. "You talkin' to me? 'Cause I think I heard you say 'Jump.' But I didn't hear 'Please.'" Or the hounds: "What? I was looking at something else. Hey, what's that? See ya!"
Making to the final round required Q-ing in at least one of two earlier rounds. Then the top 10 scorers in each height division were chosen, with some finagling. The top three (based on speed) were in, even if they were all the same breed. But to promote diversity and prevent it from being Border Collie after Border Collie in the 16-inch, for example, after the top three only one of each additional breed was chosen.
Good idea, but in some of these height divisions there just aren't that many Border Collie-esque runners. Also, only 225 dogs were chosen to run in the first place. They were selected by a random draw out of more than 1,200. So unlike some elite invitation-only competitions, the very best dogs didn't necessarily get entered in the Westminster trial (although they still had to be very good just to get to the level). But Debbie said it wasn't just that. It was what went on behind the scenes that slowed so many dogs down.
"Our run wasn't as nice as I had hoped it would be," she admits, "but it was the third run of an extremely long day, with an absolutely insane amount of pressure and distraction. I was so proud we made the finals and placed."
Their day started well before daybreak, so they could avoid New York City traffic and get a parking spot. They arrived at 7:45 a.m. and never got in the ring for finals until about 10 p.m. — a long day for any dog, especially when the toilet situation isn't what they're used to.
"They were initially going to enforce the same rules as for conformation with 'no one can leave the building,' but there was too much pushback," Debbie says. "My guy wasn't going to be any happier walking on a concrete parking ramp or a busy city street, though, so we didn't end up going outside."
Each dog ran twice during the day, once each in a standard course (that's the one with all the obstacles) and in a jumpers with weaves course (that's one made up of mostly jumps set up in a challenging arrangement). The jumpers with weaves course was first for Tavari. These courses can be tough on big-strided dogs such as Tavari; if they miss a jump, or take the wrong one, or knock a bar, they've failed.
"A lot of dogs were knocking bars more than going off course," says Bell. "Tavari was distracted, but kept his eye on me and jumped very well."
Tavari qualified.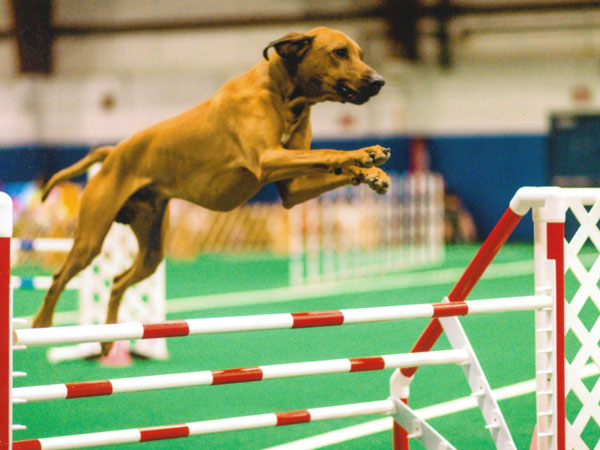 Then came the Standard course. Things were going well but then he stopped to shake his head and missed Debbie's signals for the chute. Just a headshake and you can be out at this level. But Tavari had run the course within time, and had already made the finals because of his previous run.
Most agility trials have a lot of barking in and around the ring, but few dogs ever experience the hubbub of this trial. "There were children hanging over the ring gating, people using it as a coat rack, flash cameras (happily absent in finals -– at least for most runs), and even announcements about not using flashes, which I heard disrupted some other dogs' runs," Bell says. "The dogs really could not hear the handlers at times and if they missed a visual signal because of the distractions, your team was in trouble. I was lucky not to have had the announcer or a flash midrun and fortunately asked someone to remove the child waving a sheet of bright paper near the weaves."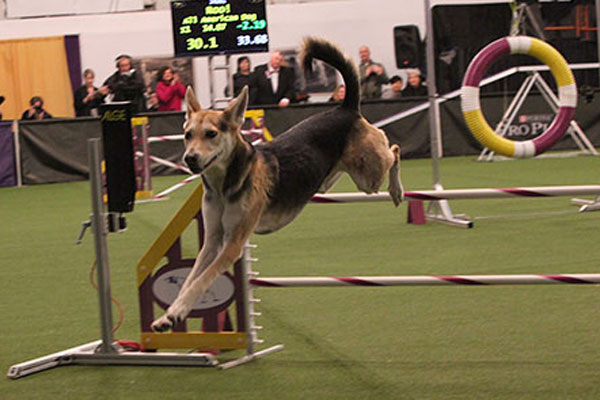 I asked Debbie how she handled it. "The only thing I can say about competing here is that you 100% need to teach the dog to work with distractions like someone waving papers, clothing, and so on, especially while on the dogwalk or teeter. Plus the cameras — a giant EYE staring at the dog." This may not matter so much for a dog that is truly driven to focus on agility. It's another ballgame to try to safely navigate an agility course versus get focused attention in a show stack with a chunk of liver. "Oh, and the crowd's cheers were deafening at times. Actually, the spectators really wanted to show their support and were EXTREMELY enthusiastic with the cheers and groans. I can't overstate the enthusiasm I saw for this event — people just LOVED it."
Now the long wait for finals. Dogs run in height groups, and Tavani was in the tallest group, the one for dogs 24 inches and over at the shoulder. That meant they ran last. It also meant more time for nerves to multiply. "I was nervous, for sure, but more because I really wanted to do a good job," she says.
The television crew asked to mike the handlers and hear their commands throughout the run. Most of the exhibitors declined, which genuinely surprised the people organizing the event. Debbie agreed to wear one because she knew she could tune out everything but Tavari.
And she did! Tavani scored the first clean run in his class.
Bell says she's ready to go back, and loved the event. She feels the spectators did too. "Honestly, I think people loved to see an event where all kinds of dogs and people were entered -– not just the elite," she says. "Given the amount of training that agility requires, I'm all for promoting the event and encouraging participation. Regardless of whether that owner chooses to compete, she and her dog will have had a great time working together and developing the bond that training brings. Everyone wins."
Read more about Westminster 2014: