Since Russia invaded Ukraine and continues to attack, hundreds of thousands of people have fled the country. More than 130,000 people are on the run. Many already traumatised people have been faced with the impossible decision of leaving their beloved dogs, cats, and other family members behind due to the protocol for non-commercial movement of companion animals into the EU. On Friday, a team from PETA Germany travelled to the Polish border to provide on-site assistance: the team has managed to get across the border and is in and around Ukraine, shepherding animals safely out.
Immediately after arriving at the Polish border, PETA Germany's team helped Crimsee, the cat photographed above, who was carried by her caring guardian more than 37 miles from the war zone. The woman was so exhausted she could barely stand.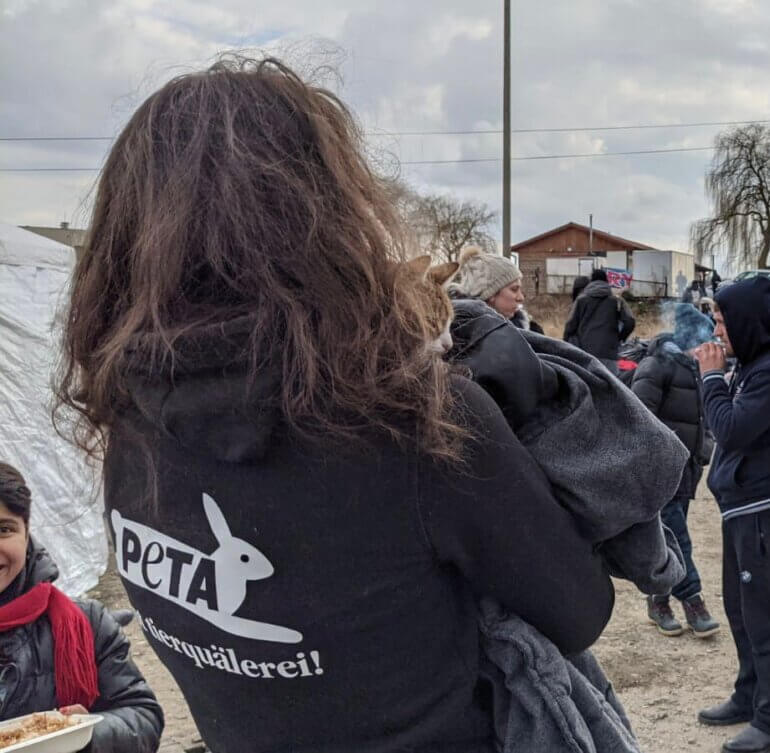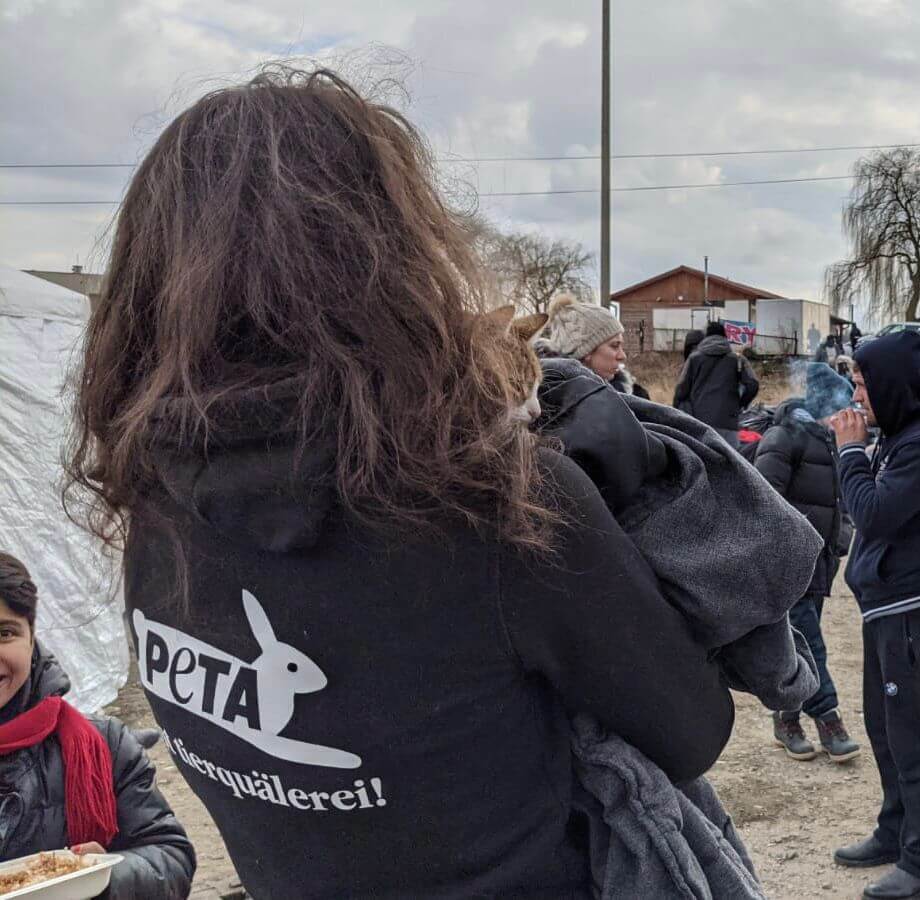 They are both now safe and receiving support from PETA Germany.
Photo © Ратынский Вячеслав / UNIAN
PETA Germany's team also responded to a call for help where several dogs were crossing the border with their human guardians and needed urgent care. All involved were debilitated and frightened.
PETA Entities Call For Safe Passage for People and Animals Into the EU
The current regulations for bringing companion animals into the EU and the UK are impossible for refugees to follow in a state of war: animals such as dogs and cats must be vaccinated and microchipped to enter the EU. Unfortunately, many of those who have been forced to flee are not.
But PETA entities worldwide have appealed to the EU to temporarily suspend the legal entry requirements for animals at EU borders. And mercifully, Hungary, Poland, Romania, and Lithuania have agreed to make entry for animals less bureaucratic. While implementation remains complicated on the ground, PETA Germany is doing everything it can – even befriending guards who display a soft spot for animals – to make the movement of animal companions into the EU as feasible and as safe as possible.
PETA UK is urging the Department for Environment, Food and Rural Affairs (DEFRA) to ease entry restrictions so that Ukrainian refugees may enter the UK with their animal companions, too.
Food for Animals in Need
Shops in Ukraine are closed, and supplies are running low, so PETA Germany is bringing food into the country.
In an undertaking with many obstacles, the group has coordinated the delivery of 2 tonnes of dog and cat food as well as blankets, which will be supplied in the most-affected regions. PETA Germany is doing everything in its power to bring other urgently needed goods into the country as relief supplies.
We will update this page with news as we receive it.
What You Can Do
Speak out for animals in Ukraine by urging DEFRA to relax the UK's rules, allowing entry for beloved animal companions!
Please make sure your comments are polite. Feel free to use the text below as a template:
Many already traumatised people are facing the impossible decision of leaving their beloved animals behind due to border restrictions. Please, @DefraGovUK, follow Hungary, Poland, and Romania's lead and allow Ukrainian people and their animal companions safe harbour in the UK! #AnimalsOfUkraine #StandWithUkraine
Sharing our content may mean you also share your personal data with the chosen social media platform. Find out more here.