Ahead of King Charles' first Trooping the Colour as the new monarch, PETA sent His Majesty a letter, along with a sample of the world's first faux bear fur made by luxury faux furrier ECOPEL. The letter offered to have a made-to-measure faux fur cap produced for him to wear at his birthday parade instead of the usual ornamental headpiece made from the pelt of a dead bear.
One Bearskin Cap = One Dead Bear
It takes the skin of at least one bear to make a single cap. In Canada, recreational hunters are granted tags to kill bears, and some even use bows and arrows. The bears are often shot several times before they die, while others escape only to bleed to death.
In some provinces, bear hunting is permitted in spring. As the sex of bears is difficult to ascertain on sight, mother bears seeking food for their cubs are often killed, leading to the death of entire families.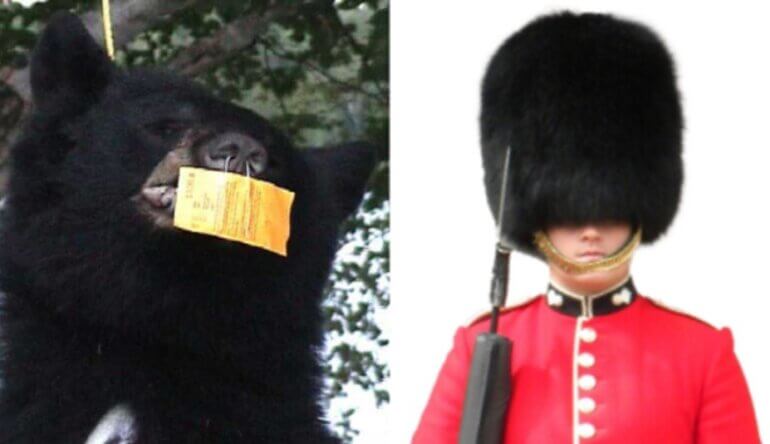 Out of Line With Public Opinion
As the letter points out, the change would better reflect the values of the 95% of Brits who reject fur and the vast majority who agree that taxpayer money should not be used on caps made from the skin of slaughtered bears.
Some of the guards themselves also hold this view. In an exclusive piece for The Independent, an anonymous royal guardsman spoke out about taking no pride in wearing the skin of a dead animal.
Even the late Queen Elizabeth decided to go fur-free during her reign, understanding that fur is no longer acceptable in the 21st century.
The MoD Must Go Fur-Free
The MoD long ago committed to replacing the real bearskin used for the caps once a suitable alternative was found, and recent laboratory tests confirm that ECOPEL's faux bear fur performs as well as or better than real bear fur against the MoD's five criteria for a faux fur.
His Majesty's support for this switch would encourage the MoD to follow suit and usher in a new, kinder uniform for his guards.
Take action against the use of real fur for these headpieces now: