If you're flying with SAS (Scandinavian Airlines), there may be hidden passengers beneath your feet.
PETA has found that the company is among a diminishing pool of airlines still profiting from flying dogs to laboratories right here in UK. Its unconscionable contracts are resulting in the torment and death of animals in cruel experiments.
Between April 2021 and May 2023, SAS and others flew more than 5,300 dogs from US suppliers to European testing laboratories. We need your help to stop them.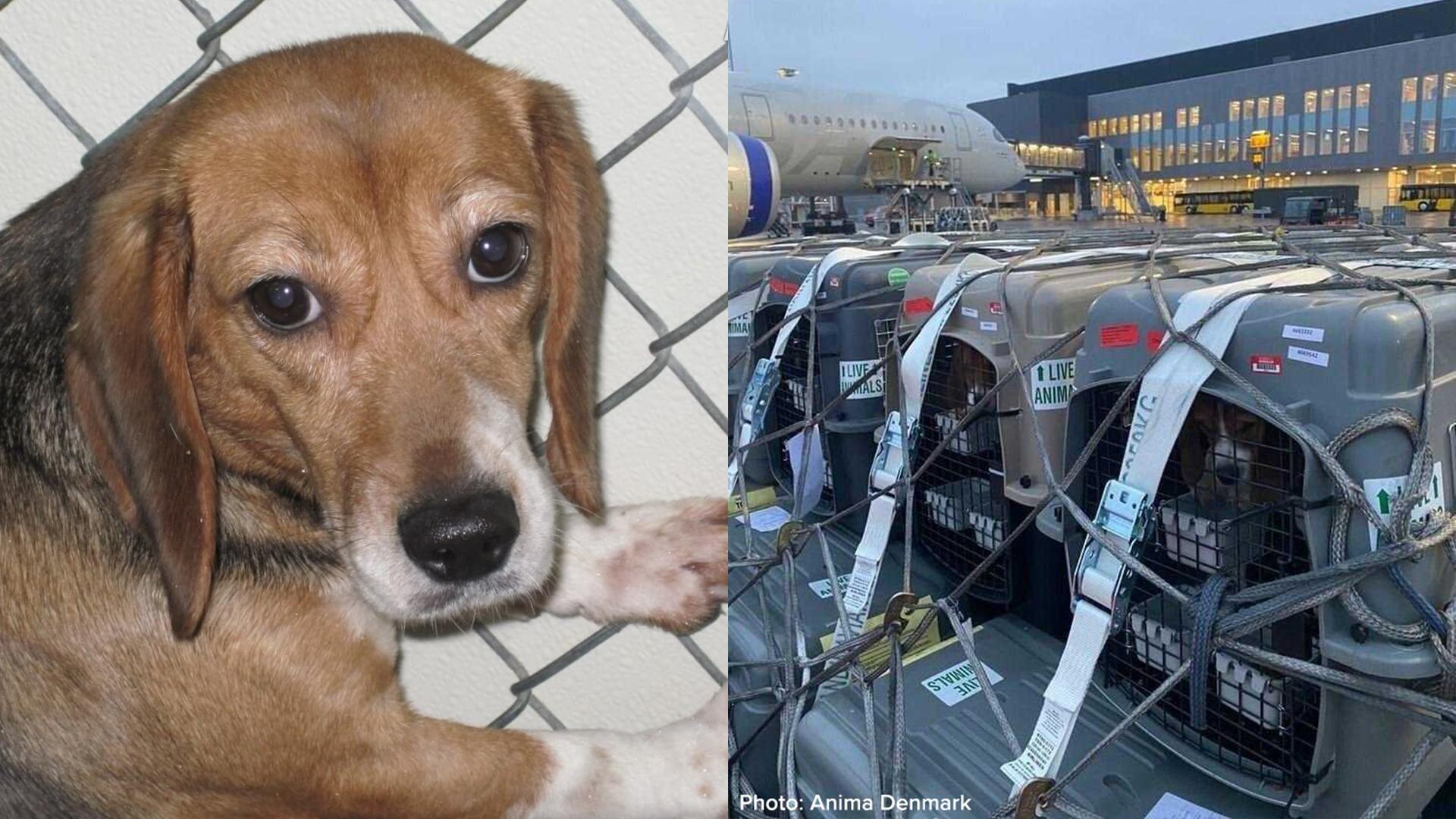 What Happens to Dogs Flown to Laboratories?
Documents and footage acquired by UK-based Camp Beagle and Anima Denmark and shared with PETA show more than 2,300 dogs, some of whom flew on SAS flights between June 2021 and May 2023, wound up in facilities in the UK, Hungary, France, and the Netherlands operated by Charles River Laboratories.
The global testing giant conducts painful tests on animals for companies that produce industrial chemicals, pesticides, food additives, and pharmaceuticals.
Camp Beagle and PETA Opposition
In the UK, a beagle breeding facility attracted the attention of millions when its cruelty to dogs was captured on camera. Animal activists have set up a protest camp outside MBR Acres beagle breeding facility in Wyton, Cambridgeshire, a company owned by Marshall BioResources, and have been protesting since 2021. The campaign is backed by celebrities, scientists, politicians, and others.
Marshall-owned B&K Universal was also initially blocked from expanding a beagle breeding facility in the UK after protests by PETA UK and others, a decision which was later overturned by the government.
In 2012, Marshall's Italian dog factory farm – Green Hill – was shut down after allegations that dogs were mistreated. Following that, three members of management at Green Hill were found guilty of "unjustified killing and mistreatment of dogs" in 2015 and sentenced to 12 to 18 months in prison.
A whistleblower worked with PETA India in 2012 to catch Marshall's China facility in a lie, telling authorities that 70 beagles the company was shipping were "pets" who would not "be hurt or killed as Lab Animal [sic]". The dogs were actually headed to a laboratory to be used in cruel and deadly poisoning tests.
Where Do the Dogs Come From?
The dogs who SAS transports come from places such as Marshall BioResources (aka Marshall Farms). The company operates a giant beagle factory farm in North Rose, in New York state. On any given day, Marshall cages more than 20,000 beagles, hounds, and other dogs. The company also breeds and sells tens of thousands of other animals.
Marshall has been cited repeatedly for dozens of violations of federal minimum animal welfare standards mandated by US law. For instance, regulations require dog cages to be "large" enough to allow dogs to stand up, sit down, lie down, and turn around. Marshall Farms, however, has failed to meet even those bargain-basement requirements and confined dogs to tiny, cramped cages.
The company has housed dogs in unsanitary, dilapidated wire cages inside buildings infested with mice and flies. It failed to provide adequate veterinary care to the animals.
Despite its horrific treatment of animals, Marshall has exported nearly 5,000 dogs to European laboratories with the help of accomplices such as SAS since 2021.
Ties to Beagle Factory Farm, Envigo
SAS also flew dogs from Envigo between December 2019 and May 2022 – you may remember Envigo from news headlines around the world, after the beagle factory farm was exposed by PETA US's groundbreaking undercover investigation. 
PETA US' investigation resulted in the seizure of nearly 450 dogs and puppies, federal citations for dozens of violations of animal welfare laws, and a legal battle between the company and the US Department of Justice. Authorities shut down the facility and more than 4,000 dogs held there were adopted into loving homes – including that of Prince Harry and Meghan Markle.
Envigo might have caused a stir, but it's no different from those at Marshall Farms or other dog breeding operations. This is an abusive industry that frequently runs afoul of the law and operates outside the bounds of widely held ethical standards.
The Right Side of History
Following intense campaigning by PETA entities, Air France and EGYPTAIR decided to stop shipping monkeys to laboratories.
British Airways, Aer Lingus, Cargolux, and Qantas also prohibit any shipments of animals to laboratories, and every major airline in the world has a policy prohibiting the shipment of primates destined for experiments.
Many other leading airlines refuse to transport animals destined for laboratories, including FedEx, UPS, Cathay Pacific, Korean Airlines, and EVA Air, which prohibit any shipments of animals for experiments. Emirates, Singapore Airlines, and China Airlines won't ship primates to laboratories, and Lufthansa has banned shipments of cats, dogs, and primates destined for laboratories.