Since Russia invaded Ukraine and continues to attack, hundreds of thousands of people have fled the country. Many already traumatised people were being faced with the impossible decision of leaving their beloved animals behind due to the protocol for non-commercial movement of companion animals into the EU.
Animals Left Behind at Borders
The current regulations for bringing companion animals into the EU and the UK are impossible for refugees to follow in a state of war. They require that animals such as dogs and cats be vaccinated and microchipped and have a negative blood test for rabies – and many animals don't meet the criteria.
PETA UK is receiving information about the process at Ukraine's borders, and mercifully, Hungary, Lithuania, Poland, and Romania have all made entry for animals less bureaucratic.
We strongly urge people not to leave their animals behind. Just like humans fleeing from war, companion animals will be scared and stressed and are dependent on their human guardians for comfort and security. We have been deeply moved by accounts of people walking enormous distances with their animals in their arms and have detailed below what Ukrainians need to know when arriving at border crossings of neighbouring countries in order to get their whole families, including their animal companions to safety.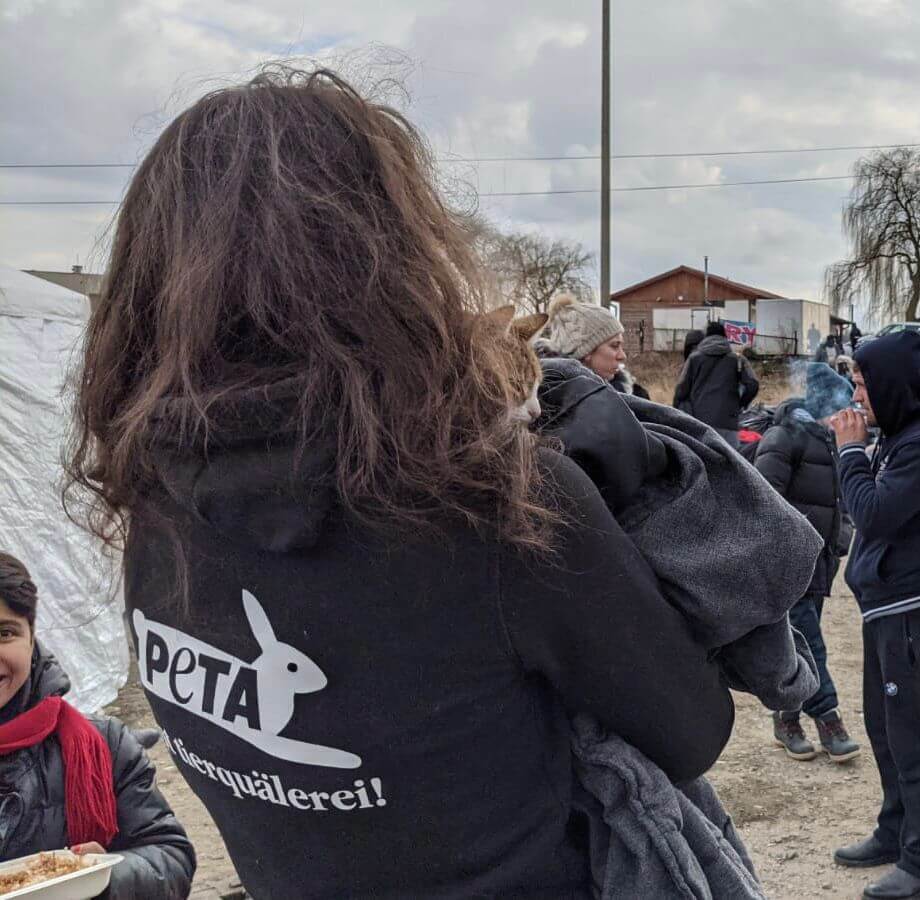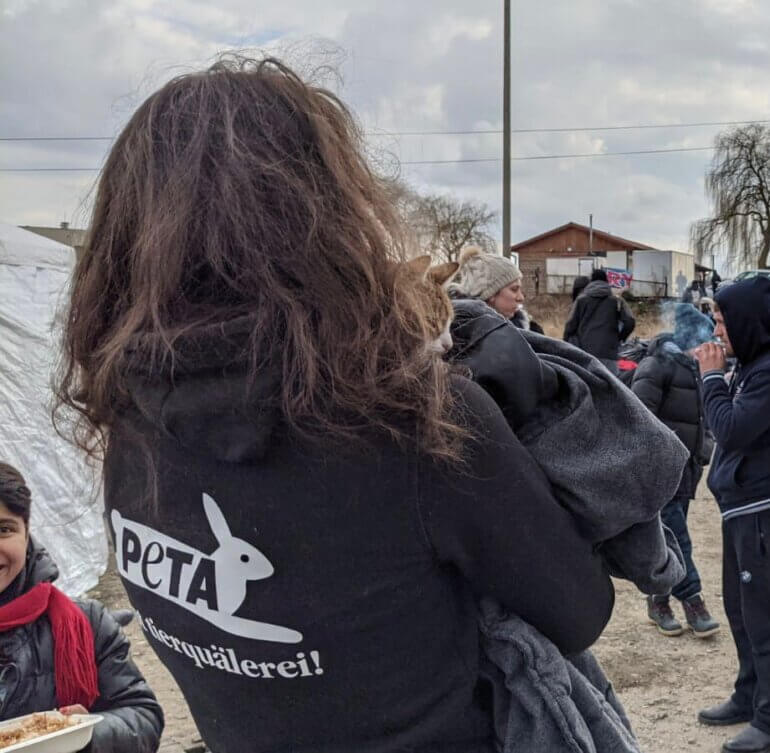 New Regulations in Romania
The chief veterinary authority in Bucharest (ANSVSA) has introduced an exception allowing animals coming from Ukraine to enter Romania with their human guardians, even if they are not vaccinated, microchipped, or tattooed and have no papers – as long as this form is completed.
PETA Germany's contacts in the country have been in contact with the border stations to ensure that all borders have this information from the ANSVSA. People entering Romania with animals must visit the "Sanitary Veterinary Point" at the borders. If guardians do not have the required documents for the animals, they can fill out the authority's form on the spot – then the animals can cross the border with their guardians. It seems that there is a maximum of five animals (dogs and cats) allowed per person. The situation remains opaque, however, as we are also receiving reports that – contrary to the official information from authorities – people are not being allowed to cross the border with their animal companions.
PETA Germany's partner organisation in Romania, Eduxanima, is offering to vaccinate dogs and cats free of charge, carry out necessary blood tests, and provide the animals with sufficient food and veterinary care. Its facility is 600 km from the border in Argeș County. For more information, people are encouraged to contact Eduxanima at [email protected]

New Regulations in Poland
According to the latest information, the Polish government has now made it possible for animal companions (cats and dogs) to enter the country without vaccinations, a microchip or tattoo, or a blood test. Guardians who enter via the Polish border must fill out transition papers for the animals. Those able to provide an address in Poland can take their companion animals directly to their destination. If transiting through Poland to another EU country, guardians must leave the animals behind in quarantine at a shelter near the border for three weeks. The Polish government is reportedly funding the accommodation and care of the animals and will vaccinate them against rabies.
The transition papers are available in English on the Polish General Veterinary Inspectorate's website here.
Animal shelters along the Polish border and animal welfare organisations on the ground are working as best they can to rescue animals and distribute them to local shelters, as well as looking after animals who have to stay in quarantine. Traffic conditions seem to be chaotic on both sides.

New Regulations in Hungary
Hungary appears also to have relaxed its entry requirements. Animals can reportedly enter without a microchip, tattoo, proof of rabies vaccination, or titre test as long as these transition papers from Hungary's National Food Chain Safety Office (NÉBIH) have been completed.
New Regulations in Lithuania
Typically, animals entering Lithuania must be properly microchipped and vaccinated, have a valid animal passport, and meet all the usual requirements. However, due to the escalating situation in Ukraine, Lithuania is reportedly allowing animal companions to enter with their human guardians. They will be microchipped, vaccinated, and quarantined upon entry.
What Are PETA Entities Doing to Help?
PETA UK has sent a letter to George Eustice, secretary of state for environment, food, and rural affairs, urging him to ease entry restrictions so that Ukrainian refugees may enter the UK with their companion animals.
On Friday, a team from PETA Germany travelled to the Polish border to provide on-site assistance: shepherding animals to safety. Read more here. PETA Germany is coordinating a delivery of nearly 2 tonnes of companion animal food as well as blankets to shelters in Ukraine. It's a complex undertaking with lots of obstacles to overcome, but they are determined.
We will update this page with news as we receive it.

What You Can Do
Speak out for the animals in Ukraine by urging government officials to relax the UK's rules, allowing entry for beloved animal companions!
Please make sure your comments are polite. Feel free to use the text below as a template:
Please, @DefraGovUK, follow Hungary, Lithuania, Poland, and Romania's lead and allow Ukrainian people and their animal companions safe harbour in the UK! #AnimalsOfUkraine #StandWithUkraine
Sharing our content may mean you also share your personal data with the chosen social media platform. Find out more here.
---
We have received reports of people wanting to help going to Ukrainian border countries. We strongly advise against it. More and more border stations are reportedly closing for private individuals. Only shipments of aid that have been verified by customs are being allowed into Ukraine. Major aid organisations are on duty at the borders and coordinating help for refugees – with and without animals – so the best thing individuals can do is to support these organisations.