Ahead of the University of Bristol's 2022 open day, PETA supporters unfurled a giant banner reading, "Uni of Bristol: Stop Torturing Animals! Ban the Forced Swim Test". The enormous statement could be seen between Gatton Road and Waverley Street, hanging from the footbridge over the M32. The move was a protest against the university's support of the forced swim test and intended to alert prospective students to the animal torment the institution continues to allow.
Animal Torment and Forced Swim Experiments
In the controversial and flawed forced swim test, small animals, who may or may not have been dosed with a test substance, are forcibly placed in inescapable beakers of water, in which they paddle frantically in search of an escape, desperate to keep their head above water. Eventually, the animals may float. They're then removed from the beaker and later killed.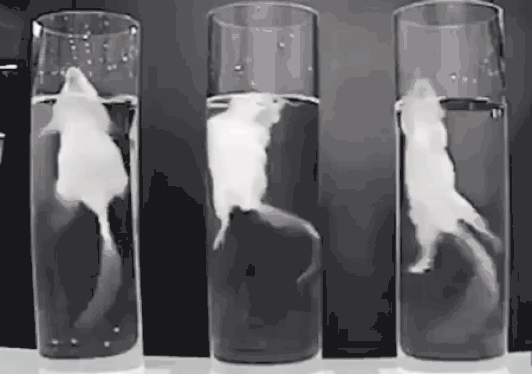 Shunned by the Scientific Community
The test is mistakenly assumed to shed light on mental health conditions in humans, but it has been shunned by leading scientists. It does nothing more than terrify animals and delay the development of effective new treatments for humans, which are desperately needed. PETA is urging the university to ban the test and embrace superior, non-animal research instead.
Following discussions with PETA entities, 15 companies and several universities, including King's College London, have declared that they don't intend to use the forced swim test, which some previously used for depression research, in the future.
Help Animals in the University's Laboratories
As opposition to forced swim experiments continues to grow, PETA is calling on the University of Bristol to adopt modern research methods that leave animals in peace. Join us by sending the university a message now:
Aspiring University of Bristol students should know that out of view of the public, rodents are being tormented in cruel and worthless forced swim experiments. Join us in future protests to help make an impact for animals: