Update (October 16, 2023): Longtime PETA supporter and fearless vegan singer Morrissey just told Whole Foods to kick cruel Thai coconut milk to the curb!
The rocker penned a fiery letter to Whole Foods CEO Jason Buechel and Amazon CEO Jeff Bezos (Amazon owns Whole Foods) for choosing to betray Whole Foods' purported "standard of excellence" by continuing to sell Thai coconut milk despite repeated pleas to stop.
Morrissey's heartfelt defense of Thai monkeys comes after PETA sent Whole Foods the results of three bombshell investigations into Thailand's coconut milk industry. Even after learning that the country's coconut-picking industry is fueled by the labor of endangered pig-tailed macaques—many of whom were illegally snatched from their forest homes as babies—Whole Foods continues to sell Thai coconut milk. Several companies that produce coconut milk brands sold by Whole Foods were named by industry workers as having sourced coconuts obtained via monkey labor.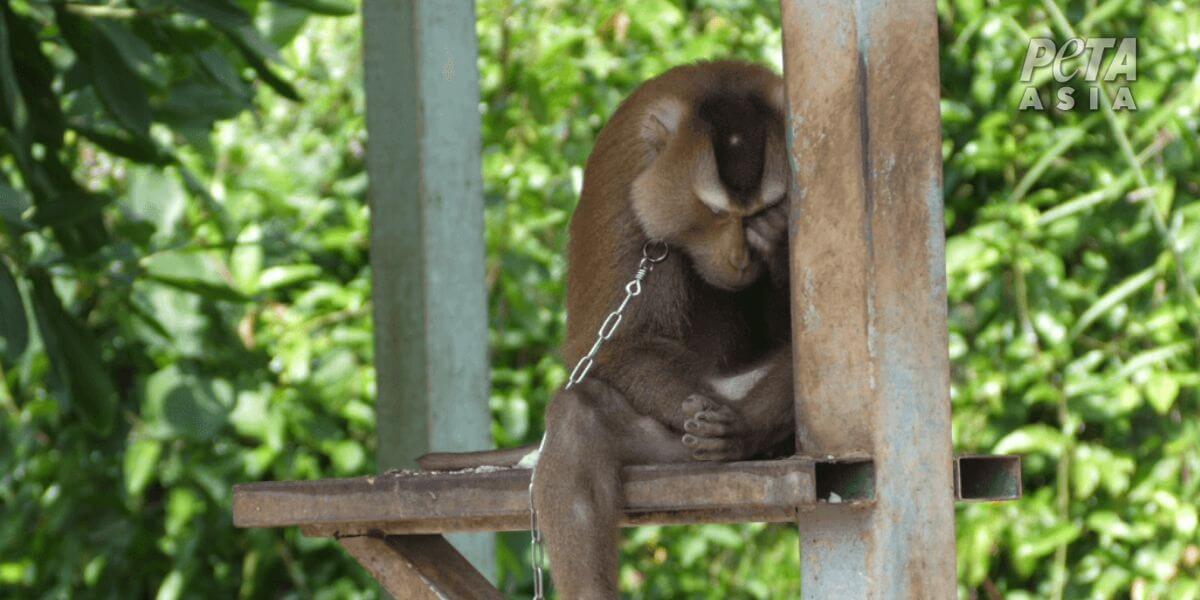 In the Thai coconut-picking industry, it's common for handlers to fit monkeys with rigid metal collars. Chains and leashes are used to choke and control them, and some of them endure their canine teeth being pulled out so that they can't defend themselves.
Because the industry and the Thai government lie about the systemic reliance on forced monkey labor, it's impossible to guarantee that any coconut milk from Thailand is free of it.
Whole Foods should take this opportunity to listen to Morrissey's plea—alongside mounting customer complaints—and immediately drop cruelly obtained coconut milk from its inventory. There's an abundance of high-quality, non-Thai coconut milk brands to choose from, some of which the company already stocks.
Chained Macaque Warns Vancouver Whole Foods Shoppers Where Their Coconut Milk Comes From
An international PETA campaign hitting Whole Foods stores has arrived in Vancouver, Canada, where a vivid image of a chained macaque from a PETA Asia investigation has popped up at a bus shelter across from the company's Robson Street location. The ad warns shoppers not to buy coconut milk obtained from Thailand, where forced monkey labor is pervasive.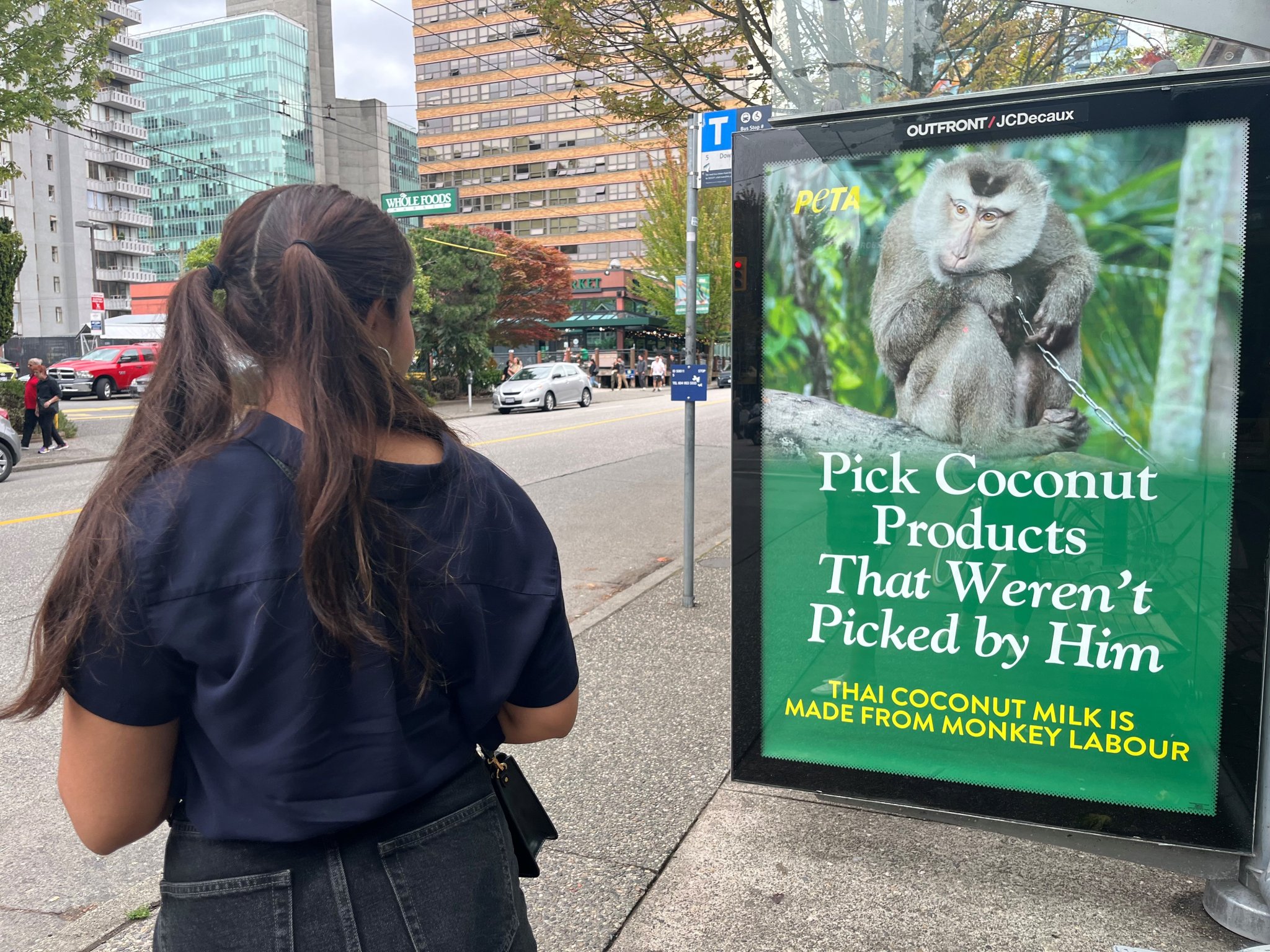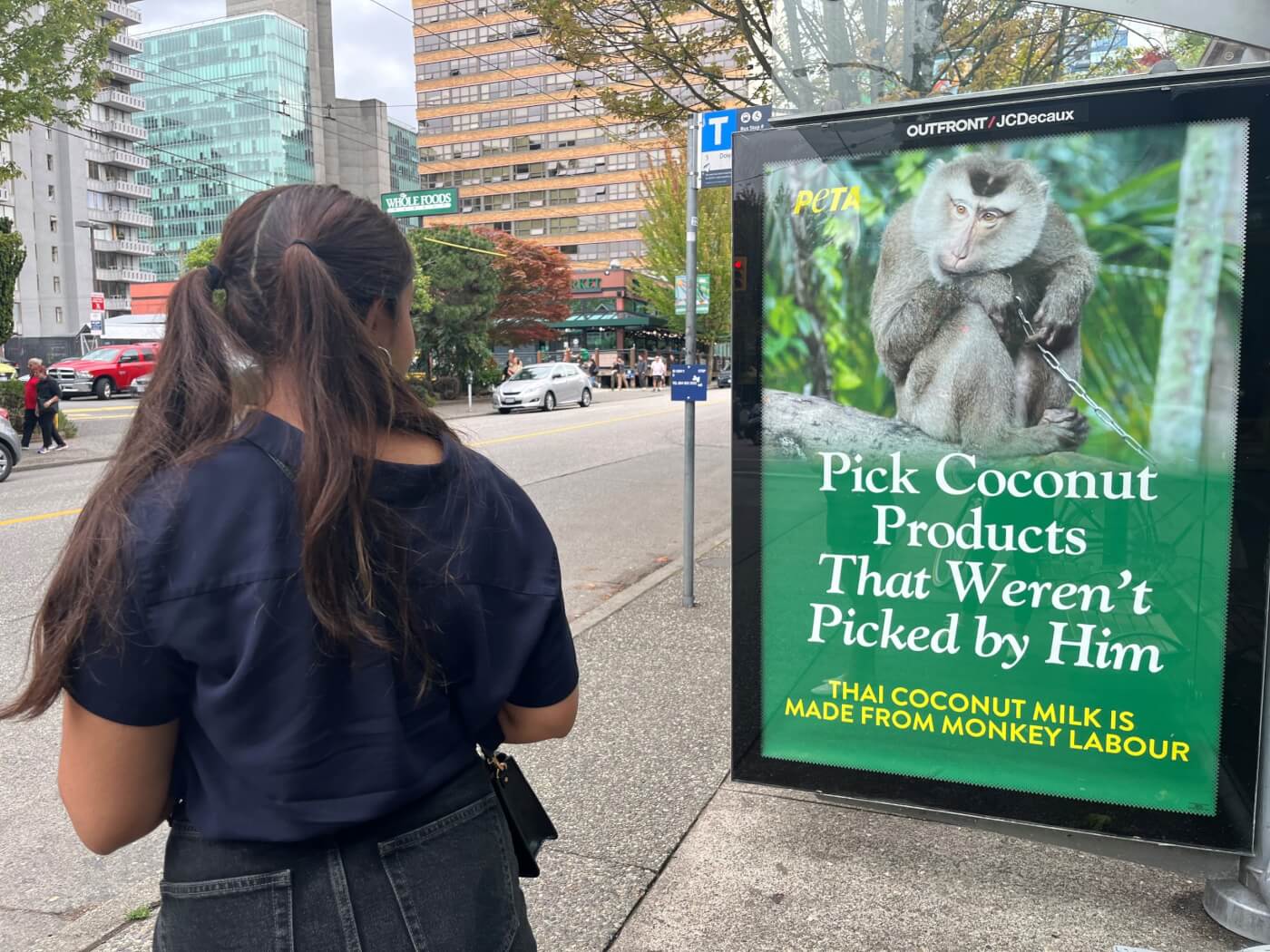 With this new ad campaign, PETA is calling on Whole Foods to sell coconut milk only from countries where monkey labor isn't used, such as India, Indonesia, and the Philippines. But these anti-speciesist spots at bus stops are just one way that we're attempting to persuade the company to make the conscientious choice to ban Thai coconut products.
'Monkey Business' at Whole Foods: PETA Dumps Coconuts Outside Whole Foods Stores
At head-turning protests across the country, PETA "monkeys" in prisoner costumes have dumped wheelbarrows full of humanely picked coconuts outside Whole Foods stores.
On June 14, 2023, six PETA members were arrested inside a Whole Foods location in Washington, D.C., while holding a sit-in to protest the company's sale of coconut milk from Thailand.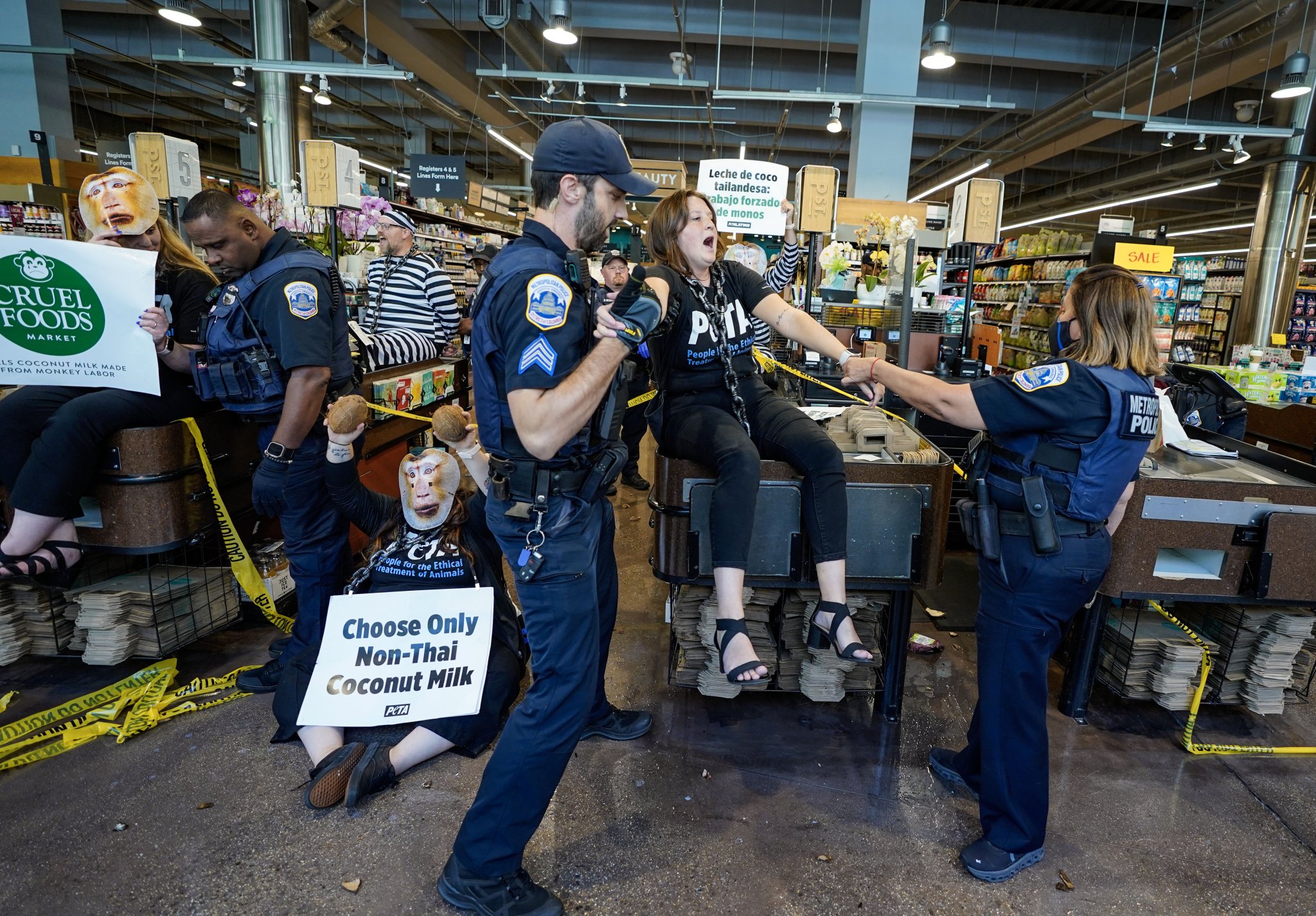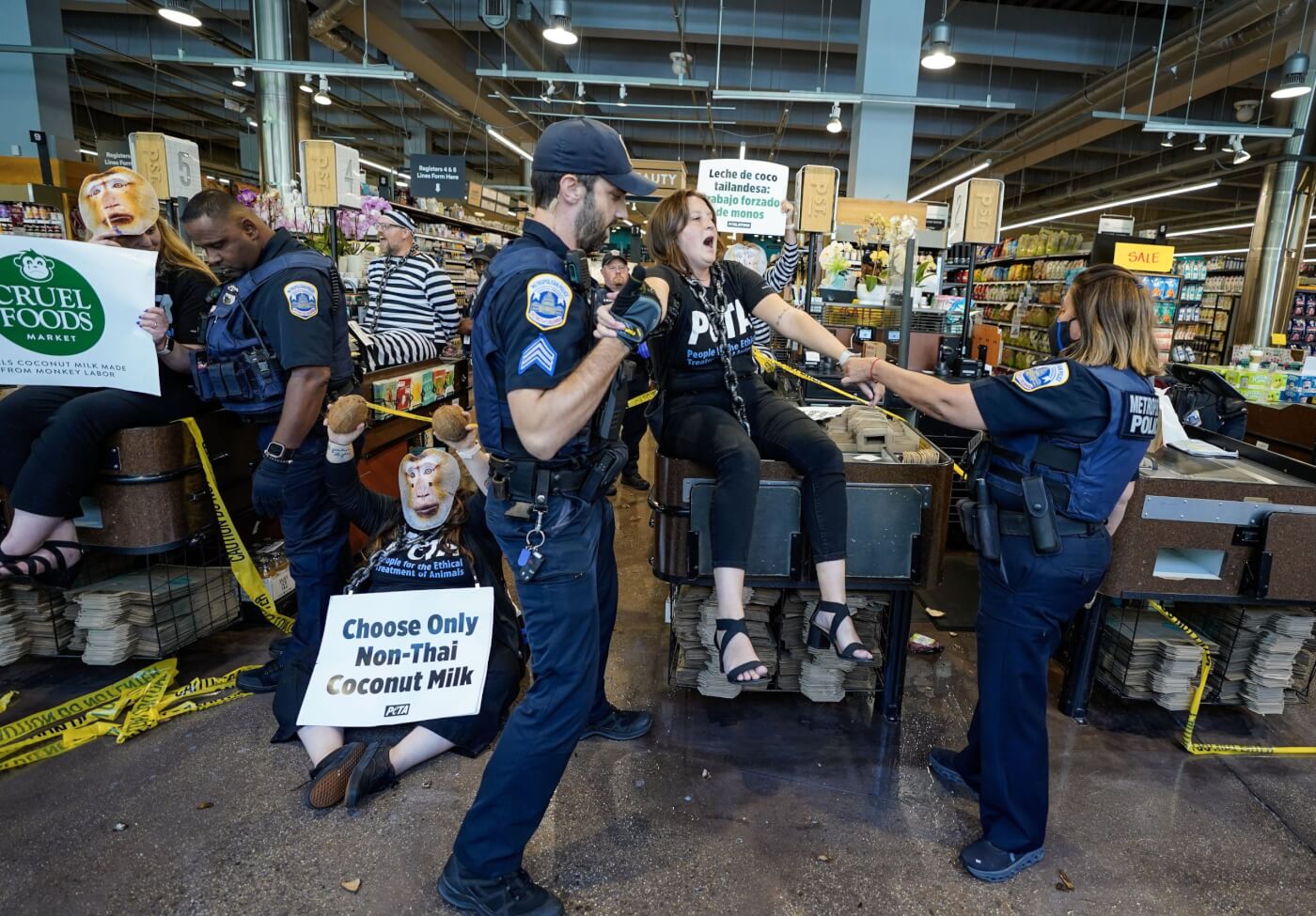 Special Delivery: PETA Lobs Coconuts at Whole Foods Execs Over Forced Monkey Labor
Whole Foods CEO Jason Buechel and the company's nine regional presidents received some unusual gifts from PETA. We sent each of them an armload of human-picked coconuts along with a letter urging them to ban Thai coconut milk from Whole Foods' shelves.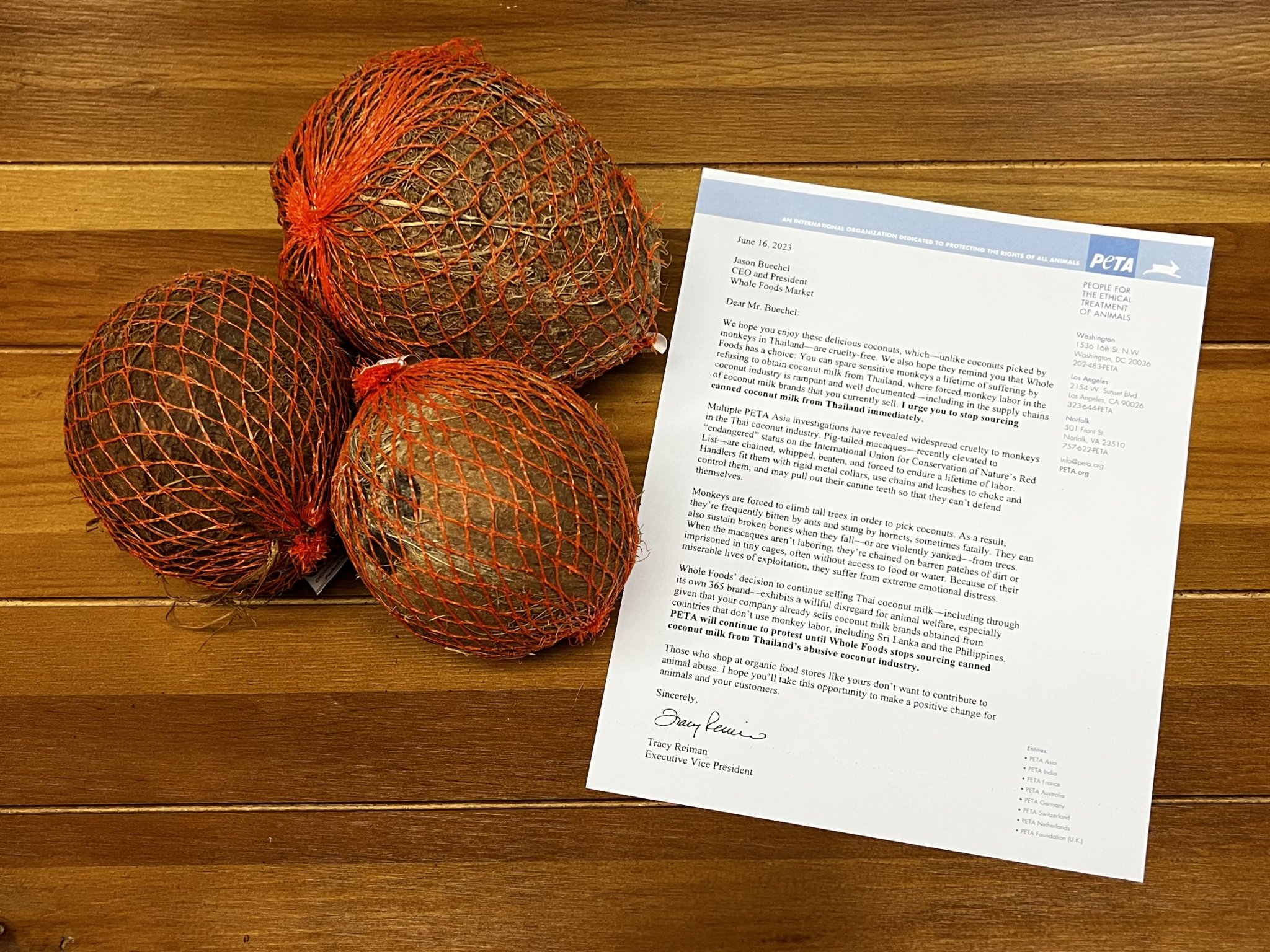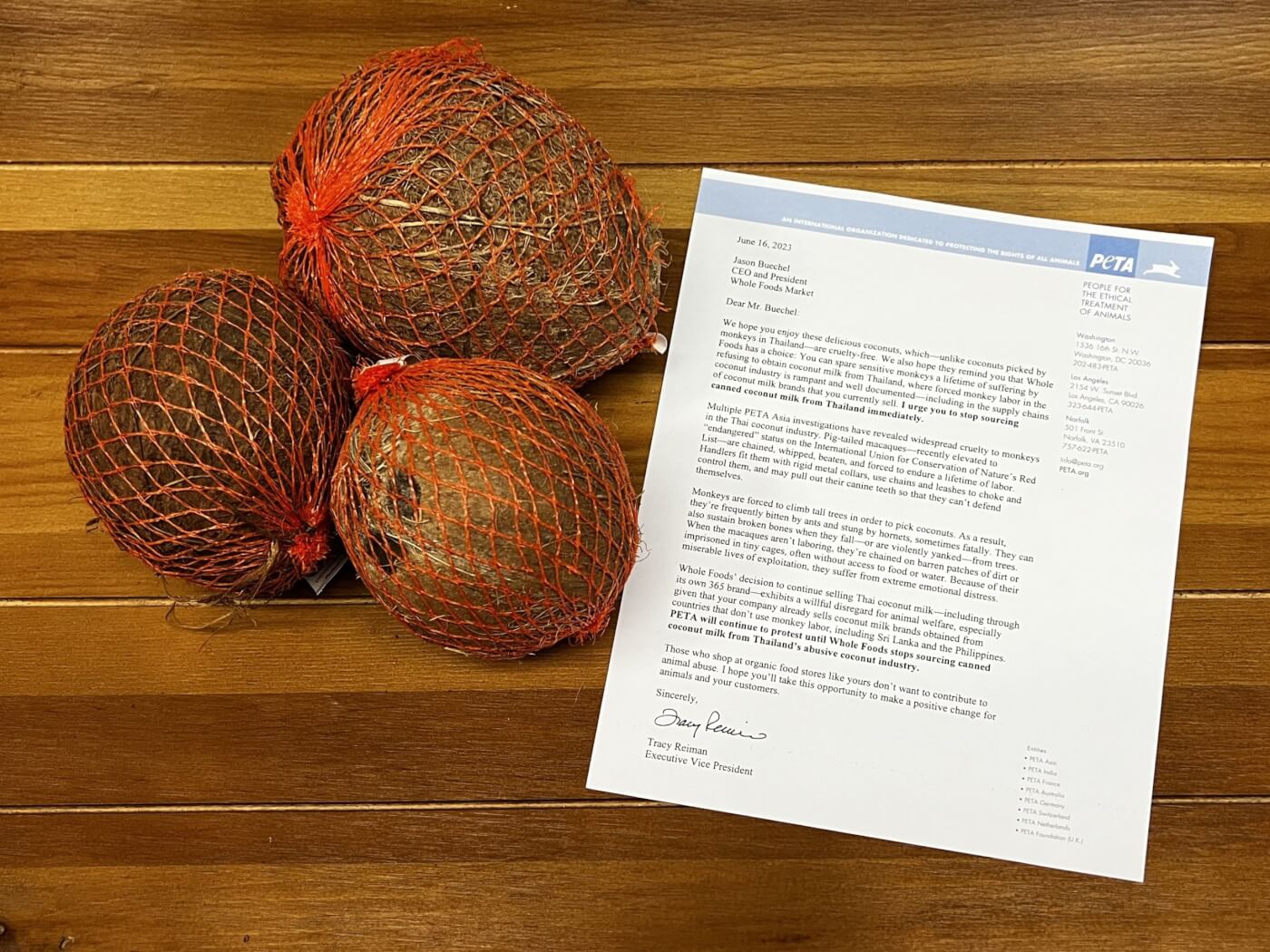 ---
Here's What You Can Do to Help Monkeys
Always check the labels on coconut milk products, and whether it's in a can, a box, or other packaging, if it reads, "Product of Thailand," leave the item on the shelf.
Please urge Whole Foods to stop supporting the cruel Thai coconut-picking industry: